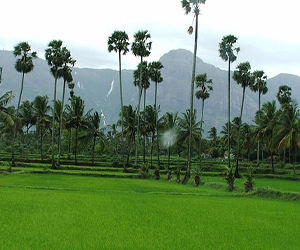 Pollachi is located 42 kilometers south of the city of Coimbatore. This town has a pleasant climate and is a well- known shooting spot as lots of Tamil films have been shot here. It is also known as a pilgrim spot owing to its many ancient temples such as Maghudeeswaran Thirukovil, Echanari Vinayagar Thirukoil, Sulakkal Mariamman Thirukoil, to name a few.
The name Pollachi has an interesting history behind it. The original name was 'Polil Vaichi' which meant "The land of natural wealth and prosperity". Over time this name changed to 'Pollachi'.
Pollachi has Asia's largest jaggery market. It is also known for its export of coconut and tender coconut. It lies very close to the Indira Gandhi National Park, which is a protected sanctuary and park that is part of the Nilgiris Biosphere reserve.